Visibility, control and remediation
The Nexthink platform provides everything you need for measuring, monitoring, and improving Digital Employee Experience. It drives the collection and aggregation of real-time data from all of your endpoints, facilitates automated remediation that scales from individual devices to thousands of endpoints, and provides high-level metrics for instant visibility and continuous improvement.
How it works
With Nexthink, every employee has a lightweight collector installed on their devices.
These employees could be any where in the world, using any number of devices.
Nexthink then collects activities and metrics such as:
Performance issues, unused software, policy breaches, browser requests and hundreds of other metrics.
This activity is then fed to the Nexthink Engine where it is processed and interpreted in real time.
This data is then aggregated for top level executive consumption in the user-friendly Nexthink Portal and the more granular and robust Nexthink Finder.
The data provided in these two places provides IT, support and operations teams / executives with the visibility and intelligence they need to act on, engage with and remediate the entire employee IT experience.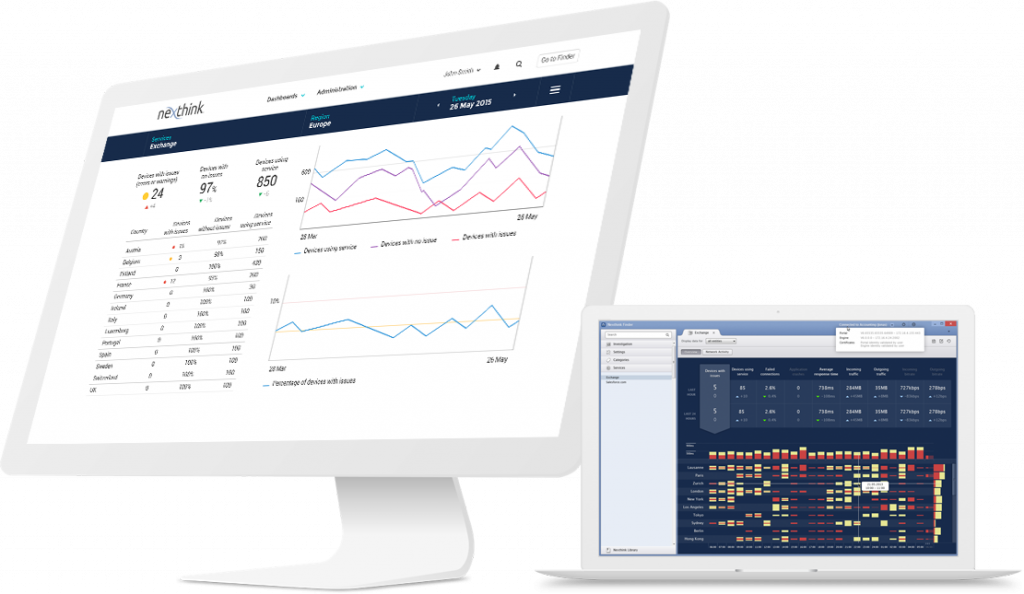 Digital Experience Score
Imagine if you had a way to see exactly what IT issues are impacting your employees? And you had one view showing the issue diagnosis and a way to resolve it? And you had a one-click fix to take instant action?
The Digital Experience Score delivers this by combining hard metrics and user sentiment data to give immediate visibility and context of your employees experience across key areas.
Want to see Nexthink in action?