Centrally Manage and Secure Remote Access for Service Desks and Vendors. 

With Remote Support, you can empower the service desk to support Windows, Mac, Linux, iOS, Android, network devices, and peripherals with one, secure tool. Privileged Remote Access allows you to secure, manage, and audit vendor and internal remote privileged access without a VPN.
Visibility, control and remediation
With BeyondTrust, you can support Windows, Mac, Linux, iOS, Android, network devices, and peripherals with one, secure tool.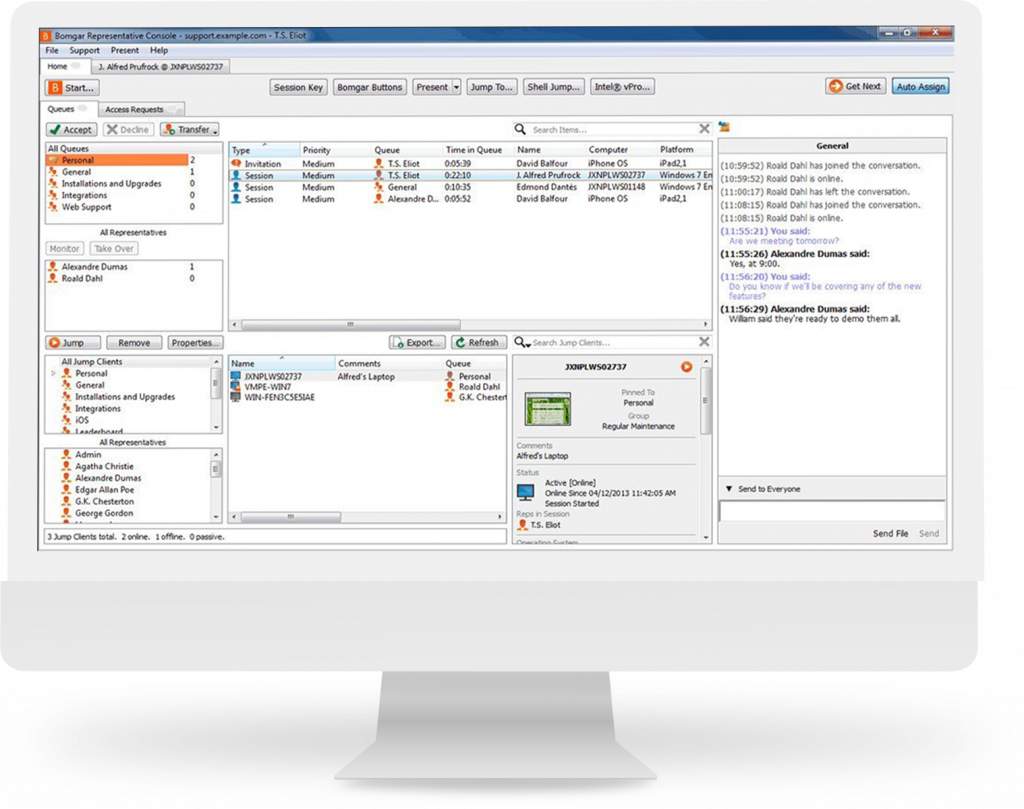 Support more
More devices, more platforms, more people, more locations. Provide instant, reliable remote support to end-users and customers on or off your network. Get more done because you're focused on fixing issues, not fixing the connection.
Provide superior service
Improve service levels and customer satisfaction with seamless, high-quality remote support for every end-user. Provide scalable, enterprise-grade support that keeps your business running, whether you're fixing a Linux server across the ocean or an iPhone across town.
Secure your business
Support teams need administrative access to desktops and critical systems to do their job. The security of their remote access tools is crucial in protecting your network from threats and meeting compliance regulations.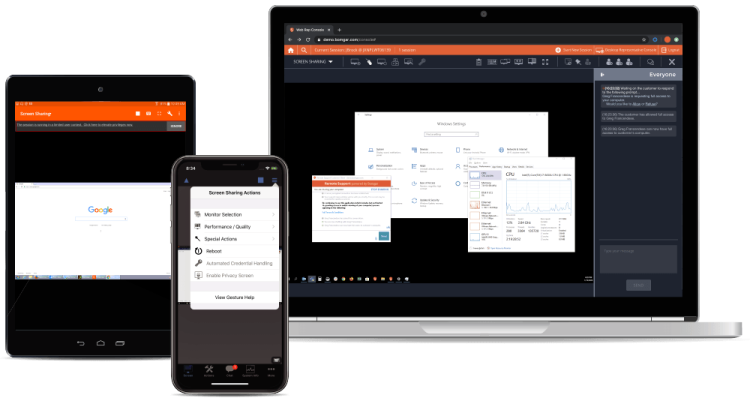 Replace RDP, VNC, and Other Hard-to-Audit Remote Desktop
When it comes to empowering your IT organization, nothing beats BeyondTrust Remote Support.
BeyondTrust simplifies desktop support. End users can initiate support requests from your support portal, Windows applications, or BeyondTrust Buttons. You can also take control of remote desktops to start support. And our patented Jump Technology is state-of-the-art for server and IT infrastructure maintenance.
IT admins will resolve issues more quickly, improving productivity and end-user satisfaction. Plus, BeyondTrust integrates with your ITSM, help desk, and ticketing solutions. Details about every remote session are automatically tied to the incident record.
Remote Access & Control
Provide fast remote assistance to any desktop, server, or mobile device, with screen sharing and remote control – anytime, from anywhere
Teams & Permissions Administration
Granularly manage team users, roles, and session permission settings to enforce a least privileged security posture
Efficiency & Scale
Manage unattended access to thousands of systems and grow your businesses securely with automation
Audit & Compliance
Log all session activity for a complete audit trail, with real time reporting and capture a detailed video log of all session activity
Customization & branding
Maintain corporate branding standards and create trust by customizing your support experience, including chat
Integrations
Integrate with CRM, ITSM, SIEM, and password tools or use BeyondTrust's open API and create custom integrations