Modern, flexible, predictive service management for
mid-size
companies
BMC Helix Remedyforce is comprehensive IT service management that easily scales and adapts to the needs of mid-size companies. Built on Salesforce cloud, it allows you to seamlessly combine IT operations management (ITOM) and cognitive capabilities to ensure the business is efficient, compliant, and secure.
Empower IT and accelerate your business
Today's businesses are completely dependent on technology to gain and maintain a competitive advantage. This increased reliance on technology means there's greater pressure on IT service organizations to keep pace with an unprecedented degree of business change. However, many IT organizations are struggling to meet these new demands because the technology and processes they have in place are inflexible and aligned to business operations of the past.
To keep up with the evolving needs of the business, IT service organizations need modern, flexible, and intuitive service and support technology that facilitates the flow of information among people, teams, and departments. The solution must be fast to deploy, easy to maintain, and painless to adapt and integrate.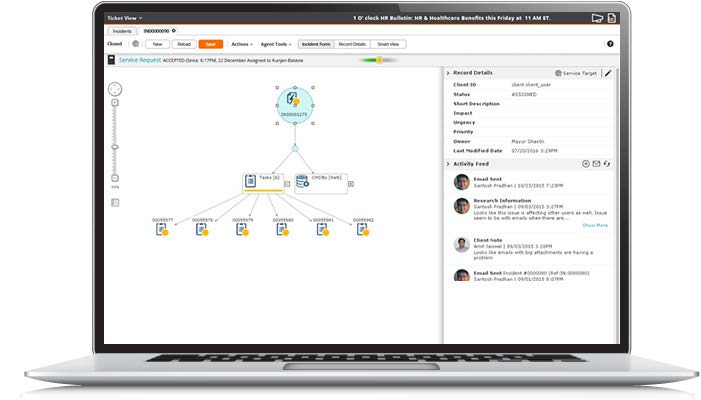 Service Management Excellence
Make your IT department a key enabler of digital transformation and a strategic business partner. Designed with the needs of mid-size businesses, BMC Helix Remedyforce cost-effectively addresses the full range of ITSM requirements with the stability, scalability, and security your business demands, plus the modern experience today's users expect.
Multi-Cloud Digital Enterprise
Once you have a modern service desk aligned to the business, BMC Helix Remedyforce can extend your ITSM to IT Operations Management (ITOM) to give you visibility and control of your endpoints and assets, on-premises and in the cloud.
Predictive ITSM
BMC Helix Remedyforce makes the power of artificial intelligence, machine learning, and automation accessible and affordable through easy-to-add modules. Deliver intelligent omni-channel experiences throughout the service portfolio, improving accuracy and customer experience while reducing costs.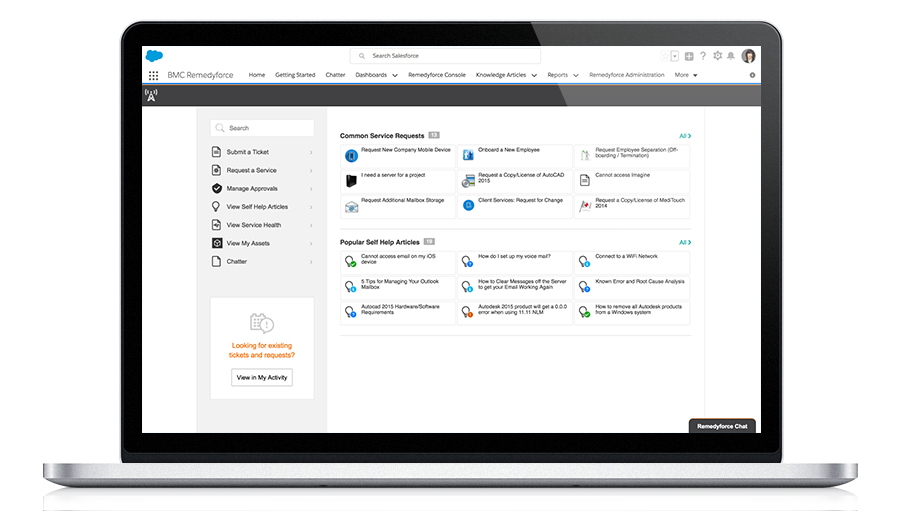 ITSM built on the Salesforce platform
BMC Helix Remedyforce is an IT service management solution built on the Salesforce Platform that combines best-practice aligned process automation with a simple, easy-to-use experience for maximum IT productivity and innovation. Remedyforce is designed to remove complexity and help you quickly realize value.
Supports all key processes
Key ITIL processes, including incident, problem, change, service level management, self-service, discovery, configuration and asset management 
Focus on collaboration
Social, mobile, and collaborative
capabilities make connecting people and information easy
Lifecycle management
Innovative asset lifecycle management capabilities for proactive management to reduce costs and improve data consistency while mitigating risks 
System Management
Agentless Discovery and Client Management capabilities to discover, configure, manage, and secure your IT endpoints 
Built on Salesforce
The stability of the world's leading cloud platform, Salesforce©, helps you realize value and reduce ongoing maintenance 
Integrations
Out of the box integrations to today's core business technologies, including
BMC Helix solutions and Salesforce© offerings, as well as 5,000+ Salesforce AppExchange solutions